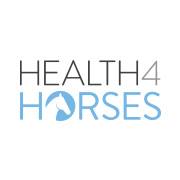 Manage your horse's health with the new Health4Horses iPhone App, launched by Zoetis animal health. It has multiple functions available, from helping you keep up-to-date with your horse's vaccinations and worming, to tracking and recording a ride using GPS navigation. It's so chock-full of practical and exciting features that it's like five apps in one!
The app is available free-of-charge through the App Store. You can download it by clicking on the image below!
My Stable – Here you are able to record key information about your horse (or horses), including date of birth, sex and level of contact with other horses. From this information the app automatically calculates a vaccination protocol, tailored to your horse. If your horse has been vaccinated against the Hendra virus, you can download your horse's Hendra Vaccination Certificate after entering their microchip number. Details of important contacts, such as your local vet, farrier and equine dentist can be recorded as well.
Track My Ride – It uses GPS navigation so that you can track the route, duration and speed of each ride. You can use it to explore new routes safely and find your way back to your horse paddock after riding in an unfamiliar area. Details of each ride are stored in a history log. You can name each route and specify the horse you rode, then share the ride with friends through Facebook and Twitter.
Reminders & Calendar – The app has a handy reminders section, where the vaccination protocol for your horse is displayed, along with other regular health requirements such as worming, shoeing and dentistry. With the calendar you can also note dates of competitions, appointments and events, so that you're sure not to miss a thing!
Notifications & Latest News – There is a notifications section where general updates, important information such as details on any recent Hendra outbreaks, and latest equine promotions can be received.