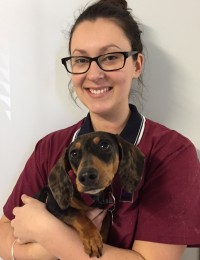 Abbey is the most recent addition to the WNVS team. After training and volunteering with the Narrabri Clinic on and off for about 2 years, she has joined the clinic full time. Abbey has always taken an interest in working with animals, and enjoys the variation that daily life at the clinic brings.
Abbey is currently studying a Cert IV in Veterinary Nursing. Her other qualifications include Cert II in Animal Studies, and Cert II in Primary Industries.
Abbey is kept busy at home with an abundance of furry friends. She has a one-eyed Labrador (Mille), a huge Great Dane X (Archie), a cheeky Miniature Dachshund (Trevor), and some fish – a fighting fish (LeBron), a dwarf gourami (Reba) and 9 neons.